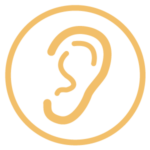 Definition
The focus is on the senses in this module, specifically sight and hearing.


 
The International Classification of Diseases 11 (WHO, 2018) classifies vision impairment into two groups, distance and near presenting vision impairment.
Distance vision impairment:
Near vision impairment:
Presenting near visual acuity worse than N6 or M.08 with existing correction. (WHO, 2020aBlindness and visual impairment.)
Hearing Loss and Deafness
A person is said to have hearing loss if they are not able to hear as well as someone with normal hearing – hearing thresholds of 20 dB or better in both ears. It can be mild, moderate, moderately severe, severe, or profound, and can affect one or both ears. Hearing loss has multiple potential causes: genetic factors, complications at birth, infectious disease, chronic ear infections, usage of certain drugs, exposure to excessive noise, and aging.
The term 'deaf' is used to describe the condition of people with severe or profound hearing loss in both ears as they can hear only very loud sounds or not hear anything at all.
The term 'hard of hearing' is used to describe the condition of people with mild to severe hearing impairment as they cannot hear as well as those with normal hearing (WHO, 2020bHearing loss.).
PE Scenarios
Severe Visual Impairment
Suzanna is 7 years old. Suzanna has some residual (usable) vision but it is difficult to ascertain exactly to what level. Suzanna has a diagnosis of Retinopathy of Prematurity which is a severe visual impairment.
Suzanna has a full-time teaching assistant who provides support in terms of her general needs in school e.g. revision of previously taught concepts, help with the development of social skills, specific requirements in terms of play in the playground and PE.
Example of inclusive practice
Read more
Blind
John, aged 9 years, is blind with no vision. He enjoys PE when he is given clear guidance. He lacks confidence due to skill challenges and poor self-esteem. He enjoys being with people but often feels left out due to his challenges. He has a teaching assistant.
Read more
Moderately Severe Hearing Loss
Bill is 11 years. He has moderate bilateral hearing loss. Generally, he wears hearing aids including when playing sport which he loves. These give him the ability to only hear sounds and not understand language. He signs and lip-reads to communicate. He adjusts to face the teacher when he cannot hear sounds. Sometimes Bill finds the gym noisy and the hearing aids amplify the noise so he chooses not to wear the hearing aids.
Example of inclusive practice
Read more
Support, Strategies and Adaptations
Use a "clock system" for knowing where things are. You can tell the goal posts are at 12:00 which means it is straight ahead of the child. (V

Visual

)
Other children can describe the environment to the child, how many are on the team and where they are standing to wait their turn. (

V

)
The child can find out who is around them and where they are going by having other children tell them. (

V

)
Other children can assist by telling them information, explaining that they can assist by explaining that they are about to hold their elbow and walk one step behind. (

V

)
Lines on the floor. (

V

)
Fluorescent tape can be used to mark boundaries in the gym and outdoors. (

V

)
Guide rails. (

V

)
Auditory lines. (

V

)
Roped boundaries. (

V

)
Ropes taped on the floor. (

V)

Mirrors on wall. (

V

)
Assess the distance the child can hear you or see you. (H

Hearing

)
Evaluate the acoustics in PE facilities. (

H

)
The teacher should be facing the sun outdoors and not the children.
Provide instructions for external providers supporting the PE lessons.
Avoid other sources of noise when instructing e.g. music and fans.
Create a climate of safety for all.
Tactile modelling. (VH

Visual and hearing

)
Individualised instruction. (

VH

)
Support for a Teaching Assistant (

VH

)
Use videos to assist instruction and turn on captioning or provide a transcript. (

VH

)
Use a buddy system and peer tutoring. (

VH

)
Do not walk around the gym while giving instruction. (

VH

)
Establish a 'stop and look' strategy which is based on a visual signal (combined with auditory for your visual impaired students). It could be a coloured flag, a hand signal, a wave, or something else that works for your setting. (

VH

)
Use signs and gestures. (H

Hearing

)
Proximity (stand close to the student). (

H

)
To attract attention, wave or tap the child on the shoulder. (

H

)
Stand still and face the child. (

H

)
Avoid exaggerated lip movement. (

H

)
Sign language. (

H

)
If using an interpreter, ensure the interpreter is standing directly to the teacher's side. (

H

)
Make sure you speak clearly and at a normal rate. (

H

)
Make sure you are looking at each other when you talk. (

H

)
Other children can assist by telling them information. (V

Visual

)
Railing for assistance. (

V

)
Auditory bases. (

V

)
Ball harness on an elastic rope. (

V

)
Bell/Beeper balls/auditory balls for activities, rice in a beach ball or volleyball. (

V

)
Follow peer or leader. (

V

)
Brightly coloured balls or those that offer a high contrast to their surroundings. (

V

)
Yellow/brightly coloured equipment. (

V

)
Peer runner guide. (

V

)
Boundary limitations. (

V

)
Visual shooting line. (

V

)
Promote independence e.g. use guide wire system or rope that is securely anchored to an eye hook or attached to poles. (

V

)
Attach a PVC tube to the rope/wire so the student can hold the tube and run along the rope. (

V

)
Print new vocabulary (

V

)
Clap behind bases to add auditory cue for those who need it. (

V

)
Clap in front for those who need it to show direction of movement e.g. pencil roll, run towards the sound source. (

V

)
Include the child as much as possible and don't leave him/her alone. (

V

)
Simple games can be adapted easily, but it may be more challenging to adapt team sports.
Answer the child's questions and make sure they are included in the conversations.
Students will need to acquire the motor skills underpinning the games.
Skills needed to play in games may need to be taught in isolation.
Keep verbal instructions short, simple and to the point supported by visually demonstrations.
Stations (Teaching).
Demonstration (Teaching).
Tasks cards (enlarged if required) (Teaching).
Verbal or visual supports (Teaching).
Feedback.
Use a whiteboard or flip chart to write down key points.
Ask children to repeat directions and instructions and/or to demonstrate the skill. Do not ask yes/no questions to check understanding
Include relaxation in cool down activities.
Promote body awareness and posture.
Include muscle strengthening activates following warm ups and in gymnastics
Work closely with the parents and the child's physician if you are unsure of the degree of involvement that is permitted and be alert of undue physical stress. (VH

Visual and hearing

)
Acquire information about the child's additional need from the child and their support network. (

VH

)
Identify supports and strategies to meet individual needs as recommended by the child, their family / caregiver and other professionals.

 

They may include hand gestures. (

VH

)
Learn key sign language for PE e.g. if you are teaching aquatics, focus on the signs for water, swim, front, back, towel, wet, stop, look. (H

Hearing

)
Ensure that any adult supporting the child's learning in physical education does not cause other children to hesitate at inviting the child to be a partner or in a group in the PE lesson. (

VH

)
Set a routine for the PE lesson and sequence of events to occur in the lesson. If the routine is to change, warn the children in advance.
Be patient.
Peer support. Help the other children in the class to understand and teach them how to support positively.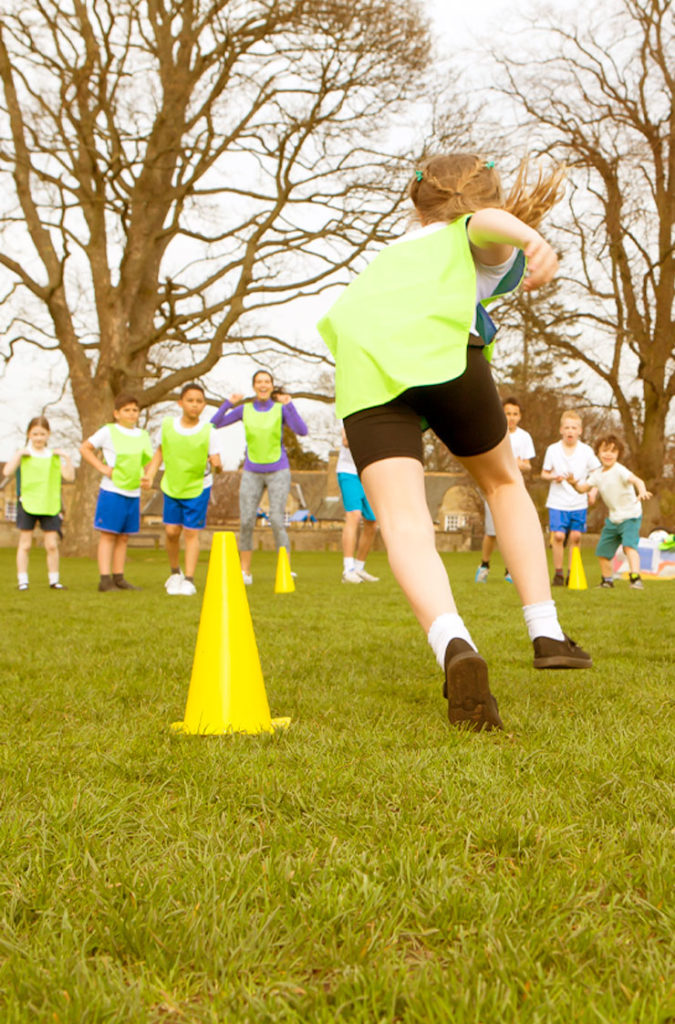 Examples of inclusive practice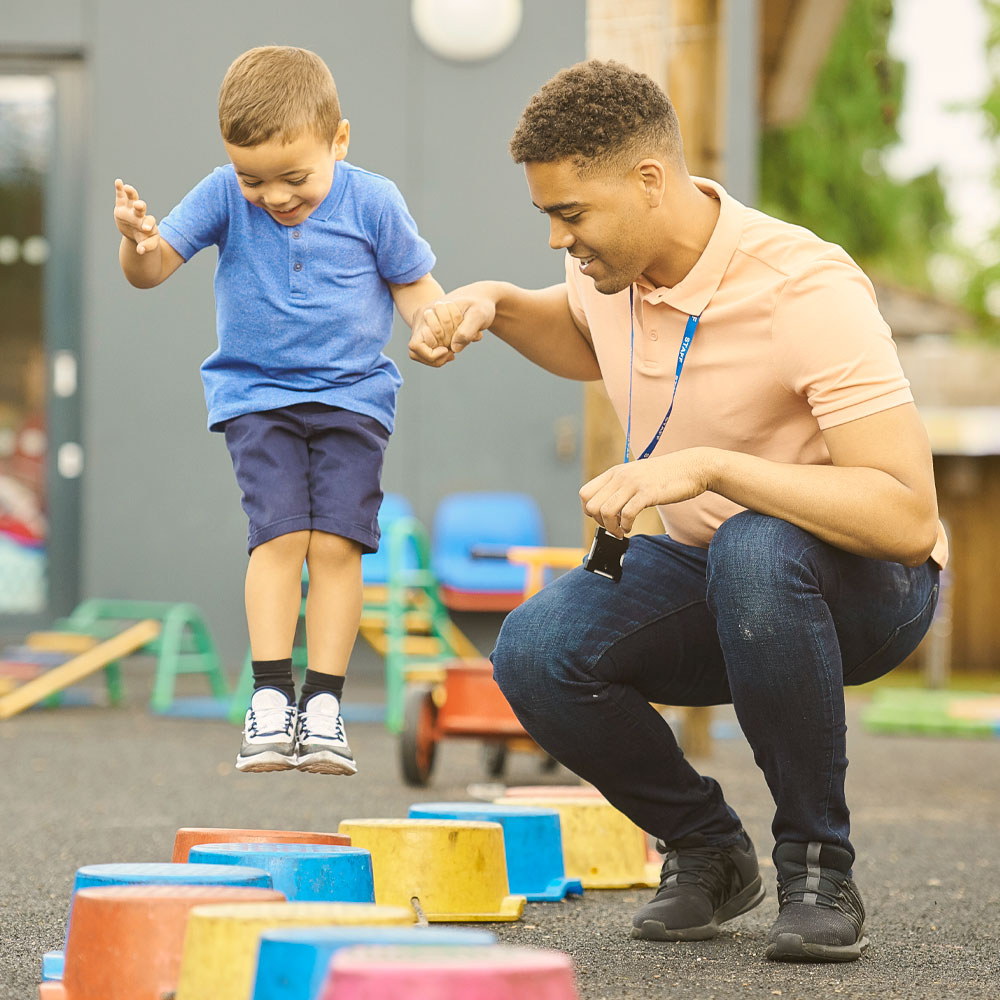 Severe Visual Impairment
Suzanna is participating in the hurdles in athletics. She is working with a partner. The teacher has Suzanna walking initially to get familiar with the space and equipment and to her partner's commands. Suzanne progresses to running over flat markers or running over lines.  Suzanna's partner claps when she approaches the hurdle/line/flat marker. In the lesson, Suzanna also tries to walk at a controlled pace towards a low-lying obstacle e.g. a low cone, and step over at the centre of the obstacle: line up and walk to obstacle, upon reaching obstacle make some attempt to raise a leg, and with her teaching assistant support attempt to lift the leg over the obstacle. Further progression can be made to 'follow a leader' to step over a row of low-lying hurdles by walking towards the hurdles and watch the leader lift each leg one at a time over the hurdle, step closer to the hurdle, and step over it without touching the top of the hurdle. The teaching assistant is there to provide assistance if Suzanne requests it. Suzanne is so happy to be active and participating in the lesson with her peers.     
Blind
John has been developing some Goal Ball skills of ball rolling and throwing in a straight line to a partner and in groups of 4 and 6. He has progressed to using a zig zag formation using a bell ball. The teaching assistant uses a clap to denote the direction the ball is to be thrown by John. Sometimes the children in his group tap the floor to indicate the next pass direction for John. John enjoys this zig zag throwing goal ball activity. John is learning how to progress to kneeling and standing as he masters the skill of throwing the ball. Sometimes all the children in his group wear eye shades for the activities as an adapted activity. Sometimes the teacher sets up a 2v2 modified game of goal ball for some children in the class as a parallel activity. He is so happy to work with others. [Adapted physical education activity–zig zag relay (n.d.). Human Kinetics [Video].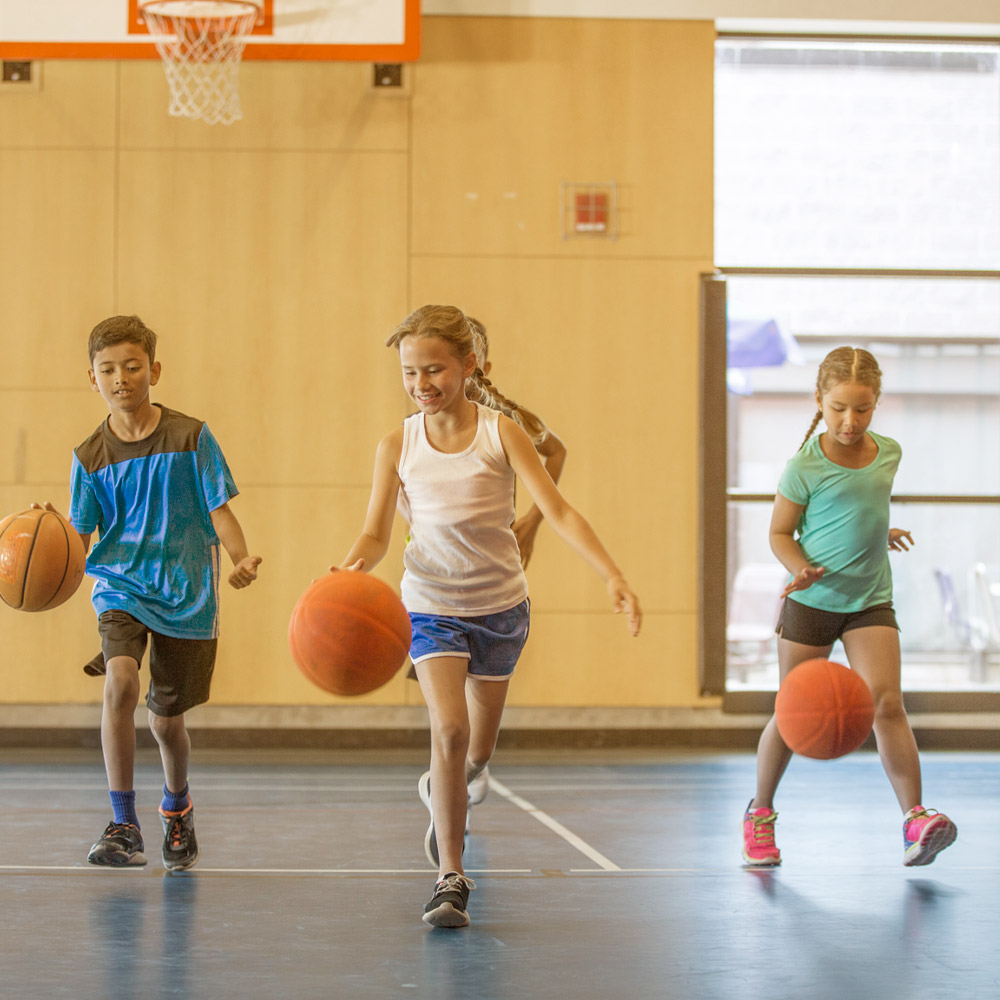 Moderately Severe Hearing Loss
Bill participates in a game of basketball that is modified by the teacher for some of the class as a parallel activity to include Bill. The teacher creates zones in a modified court area for each child to travel and pass the ball from during the game. Teams are small-sided 3 versus 3 or 4 versus 4. The teams are clearly visible using colored bibs to define the teams. The children, including Bill, and the teacher agree some hand signals to use when they are playing the game. Bill has agreed that the children tap him on the shoulder or arm during a game if they require his attention.
Further Reading
Block, M. (2016).

A teacher's guide to adapted physical education: Including students with disabilities in sports and recreation (4th ed.). Baltimore: Brookes.
Horvat M., Croce, R., Pesce, C., & Fallaize, A. (2019).
Developmental and adapted physical education (6th ed.). NY: Routledge.
Lieberman, L., & Houston-Wilson, C. (2009).

Strategies for inclusion: A handbook for physical educators (2nd ed.). NY: Human Kinetics.
Conditions associated with this additional need
References
Australian Sports Commission (2010).

Athletics Play. Download PDF

Block, M. (2016).

A Teachers Guide to Adapted Physical Education: including students with disabilities in sports and recreation

. Baltimore: Brookes Publishing Co.

Cahill, Justin. (2019, September 10). Roll and Go! [Twitter Post].
Farrell, A. M. (2013). Suzanna Case Study Profile. Unpublished. Dublin: DCU, School of Inclusive and Special Education.
Gallagher, S., & Marron, S. (2020). The Inclusion of Children with Visual Impairments in PE Lessons. InTouch, 192(1), 55. Download PDF
Gallahue D., & Cleland Donnelly, F. (2003). Developmental Physical Education for All Children. Champaign: Human Kinetics.
Graham, G., Holt/Hale, S., & Parker, M. (2010.) Children Moving: a Reflective Approach to Teaching Physical Education. New York: McGraw-Hill.
Horvat, M., Croce, R., Pesce, C., & Fallaize, A. (2019). Developmental and Adapted Physical Education. New York: Routledge
Lieberman, L., & Houston-Wilson, C. (2009). Strategies for Inclusion: A Handbook for Physical Educators. New York: Human Kinetics.
Montagnio A. (n.d.). Physical Education and Recreation for blind and visually impaired students.
Moloney-O' Regan, S. J., & Marron, S. (2020). Including a child with a Hearing Impairment in the PE lesson. InTouch, 192(2), 53.

   

Professional Development Service for Teachers Primary School Sports Initiative (n.d.).

WHO (2020a).

Blindness and visual impairment.

 

WHO (2020b). Hearing loss

.